NATURAL 85% CANNABINOIDS 510 CARTRIDGE - GOLDEN BUD

-

GOLDEN BUDS

-

NATURAL FLAVOR CBD 510 CARTRIDGE GOLDEN BUDS Enjoy the...

- Categorie :

GOLDEN BUDS

- Price :

32.95

€ - Stock : In Stock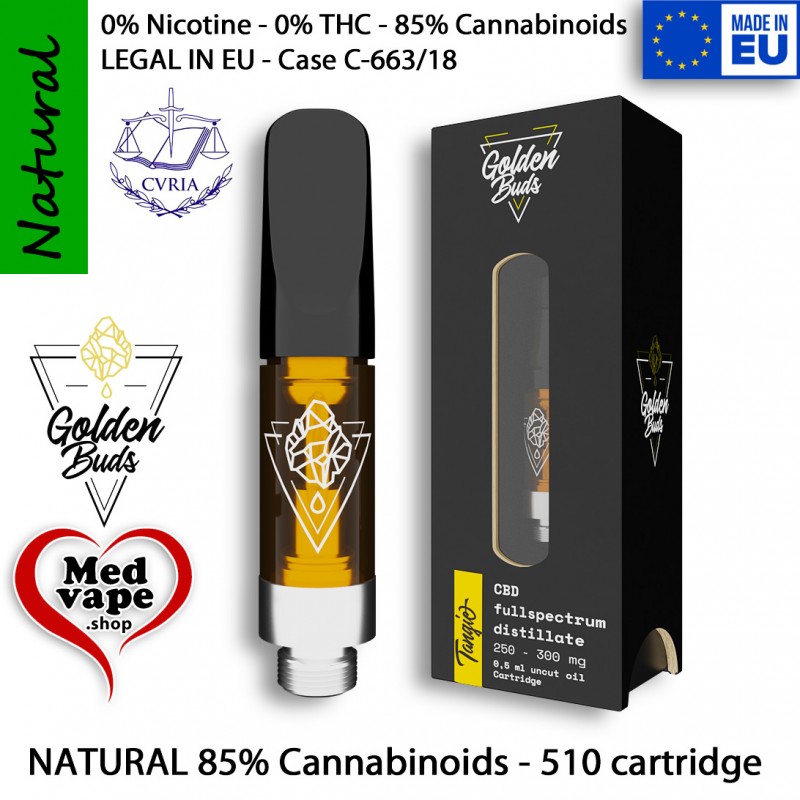  
NATURAL 85% CANNABINOIDS 510 CARTRIDGE - GOLDEN BUD
NATURAL FLAVOR CBD 510 CARTRIDGE GOLDEN BUDS
Enjoy the natural flavor of a CBD distillate at its pure form for a nice and smooth vape.
Taste the essence of the hemp CBD flower plant to a new level.
Avaliable now Natural Golden Buds, in 510 - cartridge and refill syringe.
This carefully designed cartridge delivers 300 mg in 0,50ml cartridge (the equivalent of 6000mg (60%) CBD in 10ml bottle) of active full-spectrum CBD distillate paired with natural terpenes (flavor derived from each individual strain) to enhance the absorption and effect of our premium high-concentration CBD distillate.
Voilà! Here it is a full spectrum distillate high in CBD and terpenes; of course no additives, no food coloring, no solvents, no preservatives.
All cartridges use atomizers with high-quality ceramic coils.
With Golden Buds, the days of burnt smells and bad tasting cut CBD, are now a thing of the past!
CONTAINS:
 300 mg in 0,50ml cartridge
(the equivalent of 6000mg (60%) CBD in 10ml bottle) 
Cannabidiol 50.6
CBG 10.9
CBN 0.174
THC  O.18
Legal in EU according to The Court of Justice of the European Union (CJEU), decision in Case C-663/18.
Klanten die dit product aangeschaft hebben kochten ook...